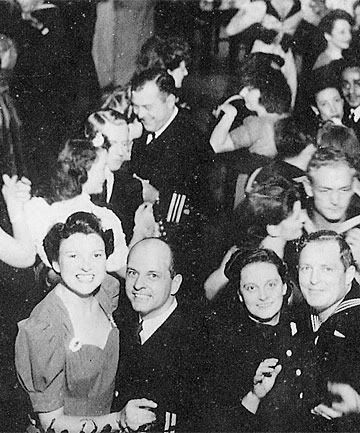 US marines and sailors dancing with Kiwi women at the Majestic Cabaret
The "American Invasion" (as New Zealanders affectionately called the arrival of US serviceman) brought a considerable clash of cultures, and the so-called "Battle" in Manners Street, one of the main streets here in Wellington City, was a messy explosion of tensions between two allies stationed together on the home front.
This riot, which has passed into Wellington legend as "the Battle of Manners Street", took place on the evening of Saturday, 3 April 1943.
About 20,000 American Marines arrived in Wellington shortly after the Japanese bombed Darwin in February 1942. They had set up their base at the Allied Services Club in Manners Street, where the Manners Street Post Office is now.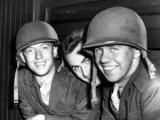 The riot began at the Allied Services' Club when, it is alleged, servicemen from the southern United States refused to let some Maori servicemen drink in the club. When the Americans removed their Army service belts to emphasise their point of view, New Zealand servicemen joined in and the "battle" spread into the streets. American military police, who arrived to restore order, took sides and used their batons.
The fighting spread to the A.N.A. Club in Willis Street, where belts and knives were used, and into Cuba Street. It has been estimated that over 1,000 American and New Zealand, troops were involved, as well as several hundreds of civilians. The battle lasted for about four hours before order was restored.
It was

finally halted by the combination of

the civil police, the

military police, fatigue and the worrying threat for American serviceman of missing the last train back to their barracks near Paekakariki

.

Many American soldiers were injured during this affray and there were f

alse rumours that two American serviceman had died that evening which persisted for decades. The truth was that no one was killed, and only one New Zealand serviceman was subjected to military discipline.
US Marines
The "Battle of Manners Street" was the ugliest riot in New Zealand's history but it

was not the only clash between American and New Zealand troops in New Zealand cities. About the same time there were two similar riots in Auckland, and a further clash occurred outside the Mayfair Cabaret, in Cuba Street, Wellington, on 12 May 1945. There was also a clash between a small party of American servicemen and Maori civilians at Otaki in October 1943.
In no case has the result of any of the ensuing inquiries been published and, owing to wartime censorship, no reference to the riots appeared at the time in local newspapers or on the radio.